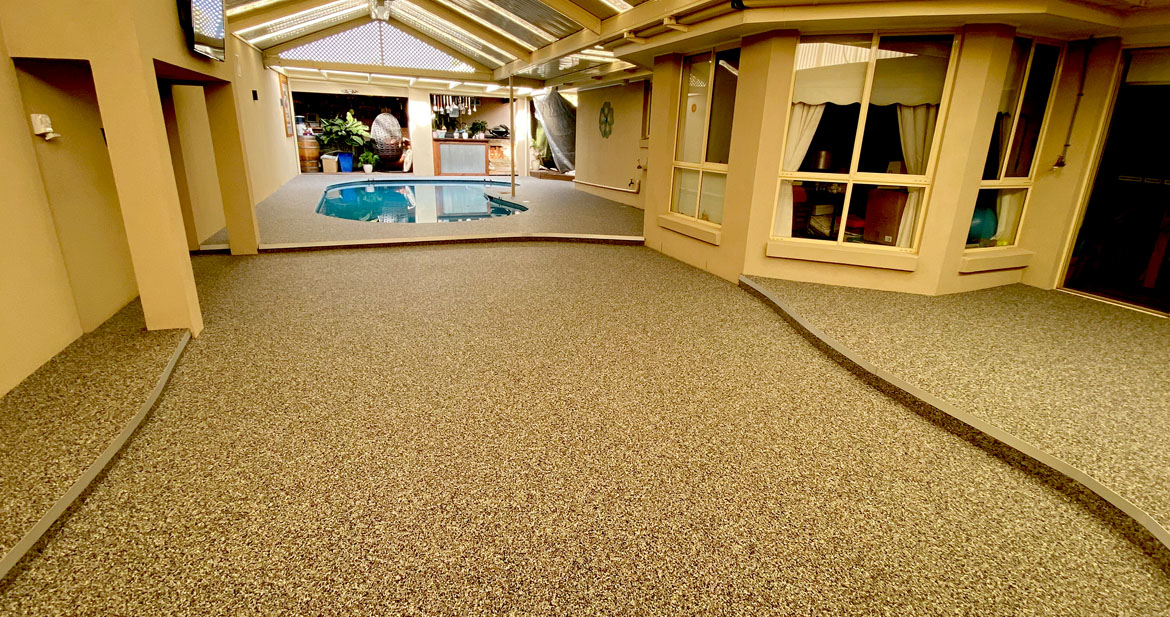 Interior/Exterior Concrete Resurfacing: Transform Your Space
Welcome to the world of Interior/Exterior Concrete Resurfacing! Are you looking to breathe new life into your property's floors and outdoor spaces? You've come to the right place. Our specialized concrete floor restoration services in Melbourne are designed to give your surfaces a fresh, modern look that stands the test of time. Whether it's your footpath, driveway, car park, terrace, or patio, we've got you covered. Let's dive into the exciting world of concrete resurfacing and discover how it can transform your property.
What is Interior/Exterior Concrete Resurfacing?
Concrete resurfacing is a versatile and cost-effective way to rejuvenate indoor and outdoor surfaces. It involves applying a new layer of concrete over existing surfaces, allowing you to choose from various decorative options. Here's why it's an excellent investment:
Aesthetic Freedom
Concrete resurfacing lets you choose the decor and colour of your concrete, allowing you to match your property's style and design preferences. The possibilities are endless, whether you prefer a wood, stone, slate, cobbles, or brick effect.
Realistic Models with Minimal Maintenance
Our concrete resurfacing models are not only visually stunning but also incredibly practical. They offer ultra-low maintenance, perfect for busy households and commercial spaces. Say goodbye to constant cleaning and hello to more free time.
Waterproof and Weed-Free
One of the advantages of concrete resurfacing is that it creates waterproof and weed-free surfaces. This means your outdoor areas will remain pristine and maintenance-free, even during Melbourne's unpredictable weather.
The Best Investment for Your Property
Investing in Interior/Exterior Concrete Resurfacing is a wise decision for multiple reasons. Not only does it enhance the visual appeal of your property, but it also increases its overall value. Imagine the curb appeal of a beautifully resurfaced driveway or a stunning patio for your outdoor gatherings. It's an investment that pays dividends.
Interior Natural Stone Flooring: Timeless Elegance
Seamless Natural Stone Carpets
Natural stone carpet is a remarkable, hand-troweled, seamless floor covering that brings a touch of timeless elegance to your residential, industrial, or commercial spaces. Based in Melbourne, Natural Stone Carpets is your go-to source for this exceptional flooring option.
Versatile Installation
Our team can supply and install Natural Stone Carpets over existing concrete, tile, or virtually any interior surface. This versatility makes it an ideal choice for various applications, ensuring you can enjoy its sophistication in any part of your property.
Aesthetic Appeal
The growing popularity of Natural Stone carpet can be attributed to its natural and timeless sophistication. Its seamless aesthetic appeal creates an inviting atmosphere that elevates the look and feel of any space.

Interior/Exterior Concrete Resurfacing and Natural Stone carpet offer innovative ways to enhance your property's appeal indoors and outdoors. With the flexibility to choose your decor, low maintenance requirements, and the timeless sophistication of Natural Stone carpet, you can create spaces that truly stand out. Plus, the added value to your property makes these investments truly worthwhile. Transform your space today and enjoy the benefits for years to come.
Frequently Asked Questions
Can concrete resurfacing be applied indoors and outdoors?
Absolutely! Our concrete resurfacing services are suitable for both indoor and outdoor surfaces. Whether you want to transform your living room floor or revamp your patio, we have the expertise to make it happen.
How long does the concrete resurfacing process take?
What are the maintenance requirements for concrete resurfaced surfaces?
Can I choose custom colours and patterns for my concrete resurfaced surfaces?
Is Natural Stone carpet suitable for high-traffic areas?
How do I start with Interior/Exterior Concrete Resurfacing or Natural Stone carpet installation?
Please share your project information, and we will create a complimentary estimate for you.
Feel free to connect with us on our social media platforms to stay updated on our most recent projects and updates.